We are pleased to say that Libra Energy are an approved Elmhurst Quality Accredited Member.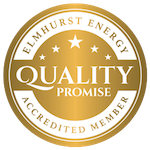 What does this mean for our clients?
Elmhurst is the UK's largest government-approved energy assessment scheme. Libra Energy are approved members of Elmhurst and have received extensive training. We hold the necessary qualifications and insurances to protect our customers. We also have the right processes in place to deliver accurate energy assessments which comply with the latest standards.
As an approved Elmhurst accredited member, Libra Energy are:
1 – Trained and qualified
2 – Have a comprehensive understanding of energy calculations and Energy Performance Certificates (EPCs)
3 – Libra Energy is able to provide information to support your understanding of the Energy Performance Certificates EPC
4 – Libra Energy are supported by the UK's largest energy assessment accreditation scheme
5 – We have access to government-approved software and dedicated support to ensure an accurate assessment is carried out
6 – We are regularly audited to ensure ongoing competence in our work
7 – Libra Energy are fully compliant with the latest government regulations and standards
8 – We are fully insured to protect clients from accidental damage and also rare cases of defective EPCs
If you would like to discuss any of the above details with a member of the team, please feel free to contact us.
Helpful Fact Sheets