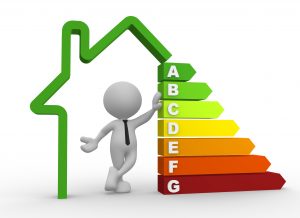 Energy Performance Certificates were first introduced by the UK government in 2007.
There's 3 different types of Energy Performance Certificates (EPC).
The Domestic EPC used when selling or renting a residential property.
The Commercial EPC used for business locations such as office blocks and factories.
The Display EPC which is generally only found on government buildings so that members of the public can see how their taxes are working for them and the environment.
Some 19 million UK properties need energy efficiency upgrades to meet EPC band C which is the present government recommendation in order to meet the UK's carbon reduction target for 2050.
If you are a homeowner and would like to either sell or rent your property than the Domestic EPC is the right one for you.  Once assessed your property will be given an energy-efficiency grade between A and G, with A being the best – i.e. most energy-efficient – and G being the worst.  At present you will need a minimum rating of 'E' before you can sell or rent your property but our assessor will give you a list of recommendations that can help you make the changes that you need to bring your property up to the minimal standard if it falls short.  This is particularly important with older housing stock that by their very nature tend to be less efficient than more recently built homes.
It is known that in the future the government intends to raise this minimal level from 'E' to 'C' in order to meet their climate change targets and will probably assist the homeowner or landlord with grants but at the moment it's not known just how much support will be available to meet this ambitious target but if you'd like to know more then please contact us and we'll do our best to give you the information that you need.